During Super Bowl week, Tom Brady said he would consider playing past age 45 — his long-held target year. The Buccaneers then signed the superstar quarterback to an extension that pushes his two-year contract to a three-year pledge.
Brady is now signed through 2022. GM Jason Licht later floated age 50 as a (perhaps half-serious) consideration, but Brady is not making any hard plans beyond next season.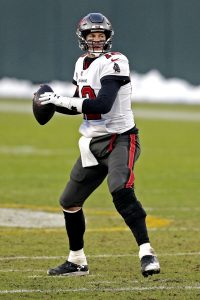 "Fifty? That's a long time. Even for me, that's a long time," Brady said, via USA Today's Jori Epstein. "I've always said 45 was the age that I wanted to reach and that was my goal. This year I'll be 44, so next year I'll be 45. I got a two-year contract. I'm going to be able to obviously play this year and God forbid anything happens but play next year and then see what happens after that.
"If I still want to keep playing, I might be able to do that. And if that's enough, then that would be enough."
[RELATED: Bucs Extend Bruce Arians, Jason Licht]
Quarterbacks have played through age-44 seasons; Vinny Testaverde, Warren Moon and Steve DeBerg suited up at 44. George Blanda played until he was 48, though the quarterback/kicker was almost exclusively a kicker following his age-44 season. While Testaverde started six games for the 2007 Panthers — a year after serving as Brady's backup — Brady will be the only full-time QB1 at this age. Blanda is the only player to have thrown a pass at age 45, so Brady making it to 2022 as Tampa Bay's starter would add to his list of NFL firsts.
Brady has managed to avoid serious injury for more than 10 years, missing only the four games mandated by the Deflategate ban since his September 2008 ACL tear. Although Brady underwent knee surgery this offseason, he was back in time for Tampa Bay's minicamp. The Super Bowl LV MVP will attempt to lead a Bucs title defense over a 17-game season this year and, barring a significant injury, is almost certain to return in 2022. Brady's health will likely determine his 2023 plans.
"I'll just have to evaluate all that when it comes," Brady said. "It's a physical sport; anything could happen. So I'm going to go out there this year and give everything I've got like I've done every other year, and then take it from there."
Photo courtesy of USA Today Sports Images.