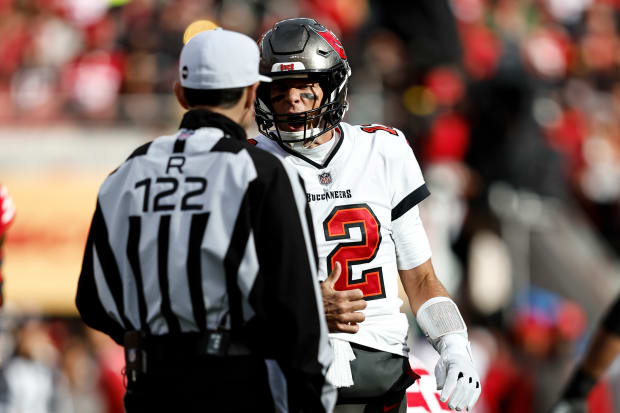 Countless fans complained about the referees during the AFC Championship Game on Sunday night. Things got so out of hand on social media that people started questioning if the league is rigged. 
On the latest episode of the Let's Go! podcast, Tom Brady shared his thoughts on how NFL officials should handle certain calls. 
Brady believes refs should only throw flags when violations are clear and obvious.
"It's just the way sports are, you know, it's just another thing for us to get emotional about," Brady said, via ProFootballTalk. "The refs got a tough job. Are they going to get every call right? I mean, is anyone a hundred percent in their job? It's a hard job to do. They're making decisions in a millisecond. This is what I believe . . . there were three terms they used . . . it was clear, it was obvious and . . . it was prolonged. At the end of the day that would be my barometer for throwing flags. That would be my barometer for taunting. Was it clear? Was it obvious? And was it prolonged? If it meets those criteria, penalty."
If only it were that simple. The truth is certain officiating crews call the game differently compared to others. 
Hopefully, this year's Super Bowl isn't plagued by egregious calls.