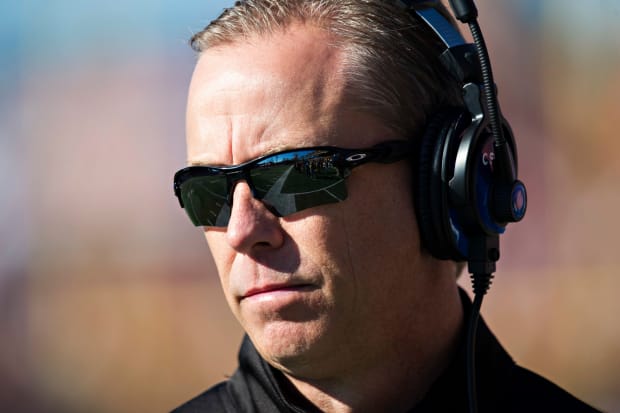 Todd Monken will reportedly pursue one of his former jobs.
Per NFL Network's Ian Rapoport, Monken will interview with the Tampa Bay Buccaneers for their offensive coordinator opening on Tuesday. He held the position from 2016 to 2018 before spending one year with the Cleveland Browns and winning back-to-back college national titles with the Georgia Bulldogs.
The NFL world responded to the Buccaneers meeting with Monken to potentially replace Byron Leftwich.
Greg Auman of FOX Sports called Tuesday a "big day" for Tampa Bay's search.
"Do not let him leave without a deal signed," a Buccaneers fan said in a sentiment others echoed.
"He needs to be the pick," another declared.
"Maybe I'm tripping, but did he do anything remotely impressive in Tampa Bay that made them want to hire him back?" a fan asked.
"Nope, don't like that either," a fan wrote.
Tampa Bay respectively ranked 18th, ninth, and third during Monken's three seasons as offensive coordinator. However, the Buccaneers finished 5-11 in each of his final two campaigns before hiring Leftwich.
The Buccaneers placed second or third in scoring in 2019, 2020, and 2021 before plummeting to 25th in 2022. That prompted the franchise to dismiss Leftwich, recently considered a rising head-coach candidate after helping the franchise win the Super Bowl two years ago.
Cleveland went 6-10 while ranking 22nd in points and yards under Monken before ending a prolonged playoff drought the following year. Yet the coach has helped turn Georgia into a collegiate powerhouse.
Tampa Bay's new offensive coordinator will enter an uncertain situation, as free agent Tom Brady could sign elsewhere or retire this offseason.