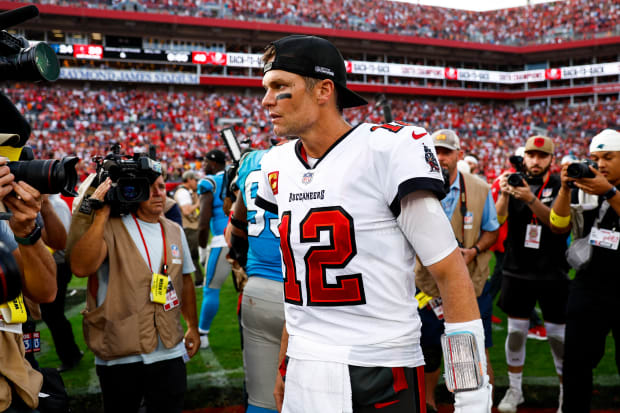 If he elects to play in 2023 and does not want to return to Tampa, Tom Brady can become a free agent in March.
According to the latest reporting from ESPN's Adam Schefter, don't expect the Miami Dolphins to go after the seven-time Super Bowl champion. They will not pursue Brady, Schefter said Sunday morning.
The Dolphins have been interested in Brady in the past, even losing their first-round pick this year as punishment for tampering with the legendary quarterback.
"But the Dolphins are committed to Tua Tagovailoa as their starting quarterback for 2023, sources told Schefter, and were pleased with his development this past season under first-year coach Mike McDaniel," ESPN wrote.
Brady, who turns 46 in August, made headlines recently when he and his children reportedly toured an elite Miami prep school, sparking rumors that the Dolphins are an option for him next year.
If Schefter is correct though, the Dolphins are full speed ahead with Tua Tagovailoa in 2023. Of course, those plans could be thrown off by Tagovailoa's health.
Tagovailoa suffered two confirmed concussions during the 2022 season, and although he's been insistent that he wants to continue playing, was reportedly still in concussion protocol as of last week.