The Buccaneers may be all-in on the 2021 season, but that wouldn't stop them from considering a quarterback in the upcoming draft. During his press conference earlier this week, Buccaneers general manager Jason Licht revealted that he'd consider taking a developmental quarterback who could learn from future Hall of Famer Tom Brady.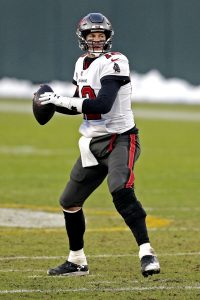 "You just want to make sure that you're not picking a quarterback just to pick a quarterback," said Licht (via Scott Smith of the team's website). "You want everybody to be onboard, and the guy's got to have the right mindset. He's got to be, obviously, talented and can through the ball, but he's got to be somebody that we all feel comfortable with above the neck. There's always positives to drafting a quarterback if all those things align."
The Buccaneers won't use a first-round pick on a quarterback, and it'd be a bit surprising if the team selected a QB on the second day of the draft. A late-round quarterback would be a natural crapshoot, but the Buccaneers would be putting that young player in a position to succeed. For starters, the rookie would obviously be playing behind a seven-time champion (and a former late-round pick, to boot). Plus, as Licht pointed out, that young signal-caller would also benefit from the current coaching staff.
"Well, there's always pros to drafting a quarterback for us because of our coaching staff," said Licht. "Bruce and Byron and Clyde and Tom Moore – I mean, you couldn't think of a better staff to groom a quarterback."
A young quarterback would also have the inside track to succeed Brady when the veteran inevitably retires. In fact, this hypothetical player could have a path to playing time if Brady was forced to miss time next season; the only other quarterback on the roster is Ryan Griffin, although the team is still looking to re-sign backup Blaine Gabbert.
Photo courtesy of USA Today Sports Images.