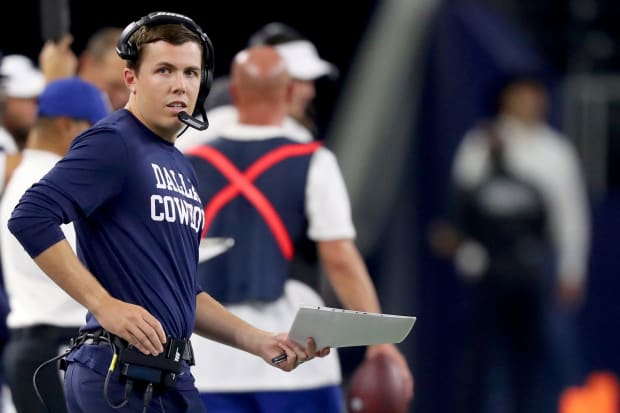 Continued changes are on the way for the Dallas Cowboys following another playoff disappointment. 
Now, Kellen Moore and the team have decided to mutually part ways.
According to Ian Rapoport, the Tampa Bay Bucs have "significant interest" in the Cowboys offensive coordinator as they prepare for a future that may not have Tom Brady in it.
Fans reacted to the Buccaneers' interest on Sunday.
"Why hire mid?" a user asked.
"Tank mode turned all the way up," another said.
"Tom Brady finna break a tablet on his dome."
"I'm good with it. Moore did a good job but struggled against SF in the playoffs. He'd get too cute at times but for the most part his offense worked," a fan replied. "Cowboy fans — who've been calling for him to be fired — bout to find out what life was like before his offense."
Surprising news out of Dallas tonight, but given how much the Bucs' offense struggled in 2022, it makes sense that they would look into Moore, whether Tom Brady comes back or not.